Mediation presentation at Estonian Embassy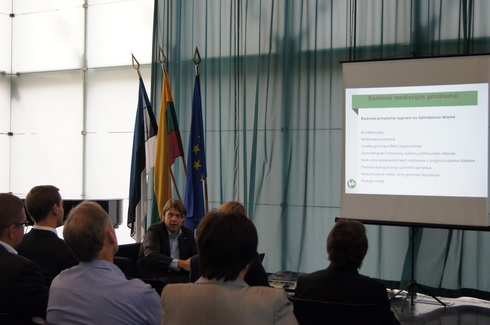 2014 09 10
Members and friends of the Estonian Chamber of Commerce were invited to the Seminar, where the new additional service for businesses - MEDIATION SERVICE was presented.
Key note speakers of the Seminar were: Mr. Šarūnas Mačiulis, Founder of the Negotiation Centre, representative from the Lithuanian Confederation of Industrialists (LPK) and Mr. Marius Devyžis, Partner, Attorney-at-Law, Law Firm VARUL.
The Seminar was followed by a Season 2014 Opening Reception at the Estonian Embassy. Guests were welcomed by H.E. the Ambassador of the Republic of Estonia, Mr. Toomas Kukk and Chairman of the Estonian Chamber of Commerce in Lithuania, Mr. Robert Juodka.
http://estcham.lt/index.php?id=10652
< back